By Craig Andresen – Right Side Patriots on American Political Radio
The current situation in Syria, has gone from bad to worse this week, as a chemical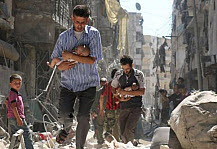 weapons attack left dozens dead, and dozens more critically injured in a northern Syrian community, the Idlib province described as a rebel enclave.
It has been described as the worst chemical attack in the war-torn country in years, but the real question is…who did it?
Therein, lies the problem.
Internationally, the UK, U.S., France and the U.N. are blaming Syria's president, Bashar al Assad, while Russia and Putin are laying the blame on the Syrian Rebels. Al Assad says he and his military had nothing to do with it, and the rebels have even tried to blame the U.N. for the situation that led to it.